On a beautiful sunny Saturday in January we drove the 100 or so miles to Bernard Castle to visit the Bowes Museum.
I wanted to go to see the exhibition of the works of one of my favorite artists and writers Raymond Briggs.
The exhibition has lots of Brigg's original artwork from books that have become common place these days. Books like The Snowman, Father Christmas and When the Wind Blows are all showcased here.
I did get a bit tearful looking at the original artwork for the book Ethel and Ernest, if you've read the book you will probably understand why.
There was a sign at the door of the exhibition that said "No Photography" so I didn't take any photos. The one below is taken from the internet.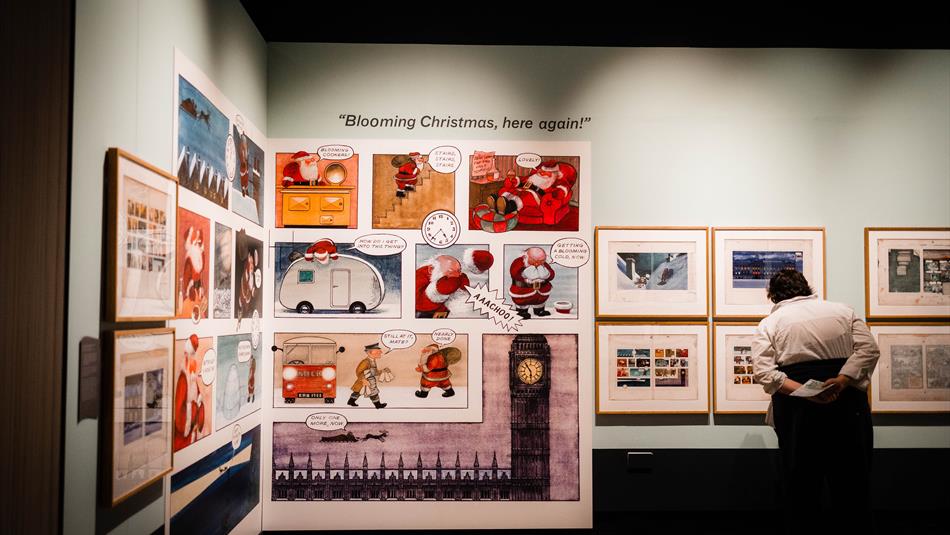 The Bowes Museum is a purpose built art gallery in the town of Barnard Castle, in County Durham.
Construction started on the building in 1869 but it wasn't until 1892 when the museum opened.
It really is a stunning building and looked amazing in the bright winter sun.
The sun shone bright but the pond was frozen as it was quite a chilly day.
The Silver Swan is one of the museums most visited pieces. Originally created in 1774 the Swan moves and appears to catch a fish.
Made from silver and glass it's a wonderful creation.
At the moment the Silver Swan is in need of restoration but there is a video showing on a big screen of how incredibly graceful the Swan's movements are.
If you ever find yourself in County Durham the Museum is definitely a place you need to see.
Entry for adults is £17.50 and well worth the entry fee which goes toward the upkeep of the museum.